NextPROBE PAUT Probe Guide
Phased-Array Ultrasonic Testing
(PAUT) Probe Ordering Guide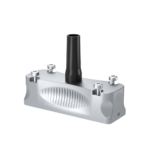 Our phased-array transducers have frequencies ranging from 1 MHz to 18 MHz and can have between 8 to 256 elements. Here is a list of some of the type of phased array transducers we manufacture:
• 1D linear array transducers
• Concave array transducers
• 2D matrix transducers
• Dual 1.5D matrix transducers.
NextNDT offers a complete line of wedges that complement its phased array ultrasonic transducers. Designed to tackle any applications, our wedges come equipped with irrigation channels and easy fixation points for simple interfacing with scanning mechanisms.
How to order Phased Array Ultrasonic Testing PAUT probes?
Use the naming rules below to order probes by choosing a type under each rule:
Frequency
Array Type
Number of Elements
Elementary Pitch
Elevation
Casing Type
Cable Type
Cable Length
Connector Type
Phased Array Ultrasonic Testing PAUT Probe naming rules
Use the naming rules below to order wedges by choosing a type under each rule:
Probe Casing Type
Probe Mounting
Refracted Angle in Steel
Wave Type
Options
Contact Surface Type
Curved Diameter
Phased Array Ultrasonic Testing PAUT Probe Types
1.5D | 1.5D Matrix Series
Custom Probe Requirements
To order custom phased array transducers and probes to match your specific applications and geometries, we need the following information: